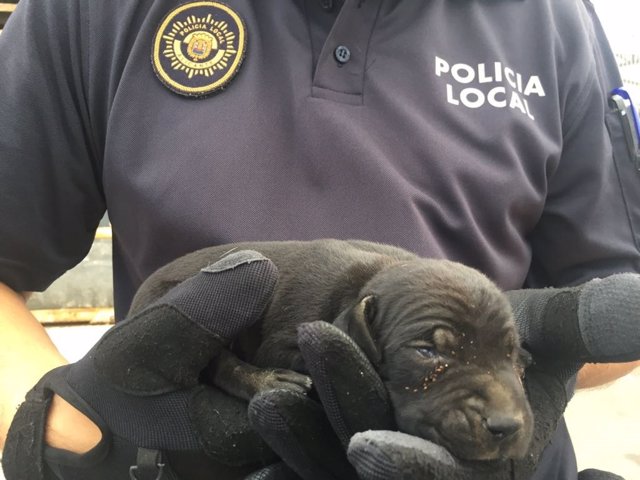 Los animales mostraban evidencias de maltrato y, de ellos, cuatro de ellos eran cachorros lactantes, según ha informado el Ayuntamiento este jueves. Los agentes han localizado, mediante un chip, al propietario de uno de los animales.    Al parecer, fue una vecina de la zona quien alertó de los ladridos, por lo que una patrulla se desplazó al lugar, en la calle Mistral, en torno a las 22.00 horas, para evaluar la situación.    Los agentes se vieron obligados a romper los candados para acceder a la nave y encontraron a los perros, casi todos ellos de caza, de las razas bretón y braco, abandonados entre chatarras y escombros.    Así, se pudo obtener los datos de uno de los chips de los animales que determinó que pertenecen a un vecino de Santa Pola, quien reconoció este extremo. Los agentes se hicieron cargo de los animales y los evacuó a instalaciones de la Protectora y ha incoado diligencias.    La concejal de Protección Animal, Marisa Gayo, acudió al lugar y ha afirmado que "varios de los perros tenían algún muñón, deformaciones y diferentes problemas. Todos estaban con muchísimas pulgas y garrapatas, en condiciones lamentables, entre maleza y escombros".    Asimismo, Marisa Gayo se ha quedado como responsable de los cuatro cachorros en régimen de "acogida", con la idea de entregarlos a personas interesadas en su adopción.
For the original version including any supplementary images or video, visit http://www.europapress.es/comunitat-valenciana/noticia-policia-local-alicante-recupera-15-perros-abandonados-condiciones-lamentables-nave-20180809103522.html
The limestone buildings at 2000 Vine are believed to be the young Kansas City's first public works facilities. Right now, two of the city's oldest buildings near the 18th and Vine Jazz District look the part: limestone ruins straight out of Medieval Europe. But Jason Parson, Tim Duggan and Shomari Benton have big plans for redeveloping the former City you can look here Water and Street Department buildings at 2000 Vine. Both were built in 1866, making them more than 150 years old, and have been empty since 1994. "They were the first two public works buildings in Kansas City history," Duggan said. "These shells were built like tanks." (From left to right) Jason Parson, Tim Duggan and Shomari Benton plan to redevelop two 150-year-old buildings near 18th & Vine into office space and other uses. The men, along with Benton's law partners David Lloyd and Peter Chung, bought the structures from the city in late 2016 and plan to begin work within a couple of weeks, adding new roofs and windows to the two-story buildings, and installing utilities. They've already spent about $400,000 and when the total $3.4 million redevelopment is completed, the developers plan to be the initial tenants in one of the 10,000 square-foot structures. Duggan's firm is phronesis ; Parson is with Parson + Associates , and Benton is with Benton, Lloyd & Chung . They are refining ideas for the second. High on the list is a mixed-use event space and/or a possible AirBNB space.
For the original version including any supplementary images or video, visit http://www.kcur.org/post/kansas-city-developers-plan-urban-acupuncture-150-year-old-buildings